Shipping coins to AGE
To ensure a safe shipment, please follow these instructions precisely.
Use only Registered Mail via the U.S. Postal Service
Your package is held under lock and key
separate from regular mail, and signed for at every step of the way until we pick it up at the post office. We've shipped and received thousands of packages this way without loss.
Insure the package for full value.
This is extremely important in order to protect your investment.
DO NOT send coins via UPS, FedEx, DHL,
or other private delivery services. In most instances these carriers will not properly insure the contents of your package. If your package becomes lost or stolen, you might have little re course with carriers other than U.S. Registered Mail.
Packaging your coins for shipment to AGE
Create a packing list.
Your packing list should include:
Your name
Your mailing address
Your day-time and evening telephone numbers
A complete inventory list of what you are sending

Note: If you are sending multiple boxes, you can use one master inventory list. We recommend that you include a copy of the master inventory list in all boxes, and highlight the contents of each box individually.

Keep a copy for yourself until we either pay you or ship your coins back to you.
Package your coins securely in a sturdy cardboard box.

Please take these important steps in order to ensure safe shipping.
Secure your coins inside the box so they will not rattle around and bang against each other in transit. Fill up empty space in the box with crumpled newspaper, paper towels, or packaging peanuts if necessary.

Include your packing list described above.

Secure the outside of your package with reinforced filament tape to make sure it doesn't open in transit. Don't use Scotch tape or other unreinforced tapes.

IMPORTANT!
Cover package entirely with brown paper tape. After securing your box with reinforced filament tape, you must then wrap the outside of your package entirely with brown paper tape, the kind with the glue on the back that must be moistened for application. Your package MUST be completely wrapped in brown paper tape in order for the Post Office to accept it as Registered Mail. The brown paper tape seals the box completely, thus protecting your package from tampering. The Post Office will stamp the outside tape seams with an official Day/Date stamp, proving that it was received by the postal clerk in good order.

Address your package to:

AGE
P.O. Box 9426
Austin, TX 78766-9426

Note: Purely as a precaution, we ask you to use "AGE" in the address, rather than "American Gold Exchange," as the appearance of the word "gold" could invite theft.
Complete the U.S. Registered Mail declarations form.

At the Post Office, carefully include the following information on the U.S. Registered Mail declarations form:
Your name and mailing address
Our name and mailing address
The declared insurance value

--Be sure to check the little box that reads, "with postal insurance," and declare the full value of your coins.
Important! Although you need not (and should not) identify the contents of the package, you MUST declare the full value of the package for insurance purposes. In the extremely rare event that your package is lost or stolen, the declared value is the maximum amount of money the post office will reimburse to you.
Retain your copy of the Registered Mail form.
Keep it safe until you receive confirmation that we've received your package (normally 3 to 5 days after you send it). This form is your proof of shipment and insurance in the event of loss.
Pay postage to AGE.
The clerk will weigh your package and determine postage based upon weight and destination zip code. Postage for most packages, including insurance, will cost between $22 and $32.
In most instances the postal clerk will affix a red sticker displaying your registered mail number (for example, RB 123 456 789 US) onto your package, and write the registered mail number on your form.
When your package arrives at our post office.
We'll sign for it and examine its contents, then call you within twenty-four hours with a precise assessment of your coins and our purchase offer.
If you accept our offer.
We'll forward a company check to you within twenty-four hours.
If you do not accept our offer.
We'll send your coins back to you by U.S. Registered Mail, insured for full value, just like you sent them to us. We'll even pay return postage. Typically your coins will be in shipped within twenty-four hours.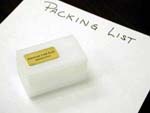 Fig. 1 - Create a packing list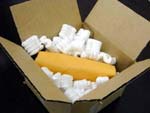 Fig. 2a - Secure you coins in a sturdy box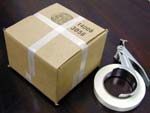 Fig. 2c -Reinforced with filament tape.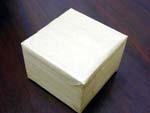 Fig. 2d - Completely cover with brown paper tape.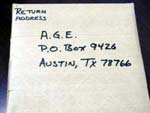 Fig. 2e - Address to AGE




Fig. 3 - Complete Registered Mail declarations form




Fig 4 - Retain your copies of the U.S. Registered Mail forms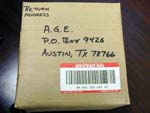 Fig. 5 - Package with U.S. Registered Mail sticker